The idea for Princess Tali came to me along with a very old oyster shell my sons discovered as they were digging a big hole out near our barn. To fill with water and float leaves and sticks...and jump in as a matter of course.




Our home is near the Pacific ocean, and there are several oyster beds nearby. No doubt the original farmers who built this farmhouse enjoyed oyster bakes in their back yard as they rested from their dairy work.
Studying this beautiful shell, I recalled that my mother cherished several strands of pearls given to her by my father. One in particular. The pearls on the necklace slightly varied in shape and were pale golden in color. I was told they were "natural" pearls from the persian gulf. Thus, Tali's story...
Princess Tali was a labor of love...and determination. I sculpted three heads for her before I was happy finally with the fourth one! The painting of her face took an entire day here and there. Her tail is made from three colors of fimo designed to resemble mother-of-pearl (on the inside of the pearl oyster shell).
She ended up taking MUCH longer than I expected, but once finished, I was startled to discover that she resembled my mother!
So, I styled her hair just the way my mother wore it when dressing up in her black dress and pearls on special family occasions.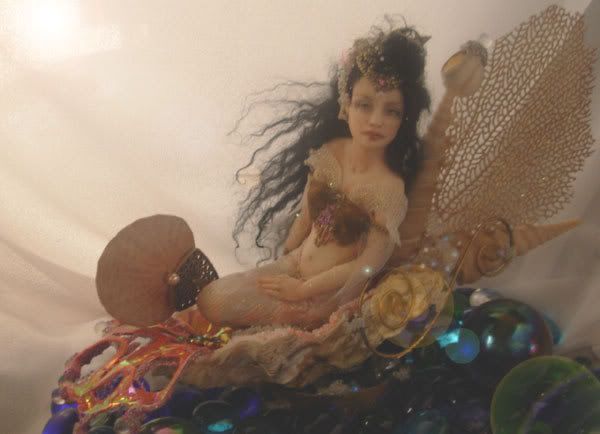 The anniversary of my father's passing was on the 4th of July...just as Tali was being finished. So yes, she was indeed a labor of love...and I am enjoying her company and the sentiment she brought with her very much. I hope you will as well.
Rose